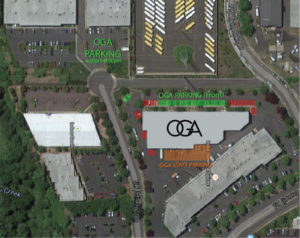 OGA members are permitted to park in the following spots:

• Any parking space marked as reserved for OGA
• Any unmarked parking space
• OGA additional parking lot, located at Sage, during high traffic hours
o Please note the additional lot will be marked with proper signage when it is open for OGA families to utilize
For your family's convenience, OGA has two designated "Drop Off/Pick Up" spots with a 5 minute time limit. These spots designed to allow you to either drop off at the beginning of class and pick up at the end, or so you can safely get your gymnast to their lesson on time and then find a long-term parking spot to use while they are in class. These spots are not intended for use longer than 5 minutes, and will be monitored to ensure these terms are not being violated.
OGA members are not permitted to park in the following spots:

• Any parking spot labeled as reserved for a neighboring business
o i.e. Noyes Development or Beaverton Crossfit
• Parking in the rear of the building set aside for OGA staff (see map above)
• Designated fire lanes
• Curbside lanes marked with "No Parking" signs
• Designated disability parking spots without displaying proper permits
For the safety of all our athletes and their families, please remember to drive slowly in OGA's parking lot, and do not leave valuables in your car.